The moment my friends over on Instagram asked me if I wanted to be a part of this little blog hop showing you some different ideas using bottle brush trees, I knew exactly what I wanted to do.   All of my bottle brush trees are reproductions but the true vintage ones are dated back to the 30s.  But first a little history on bottle brush trees that I found pretty funny.
An American toilet bowl brush manufacturer began making artificial trees out of the same bristles they made toilet brushes from.  And, they dyed them green.  OK, that right there cracks me up… and makes me puke all at the same time.  Many of you know, and some of you don't, that I have a thing, aka phobia, with toilets and ESPECIALLY toilet brushes.  They make me completely sick.  ???? (except my own)  The fact that these darling little bottle brush trees came from a toilet brush manufacturer is pretty hilarious.  Anyway, they quickly became popular because they held heavier ornaments than the earlier feather trees did and they were not nearly as flammable.  I thought that was interesting.  ???? OK, class dismissed.  
Creating my Tablescape
I wanted to make my tablescape not only practical, but I wanted each guest to have their own table favor to take home with them.  We keep things pretty simple around here for the holidays.  Our girls, along with their significant others, and our little grandson, stop by on Christmas morning for brunch.  We schedule it right after they open their own gifts and BEFORE the chaos of the day begins.  And lots of times we wear jammies.  I'm not sure this will be able to happen this year because I believe two of them, who work in healthcare, have to work.  ????
I decided to use this long wooden box that Deb had made me for the middle of my table but flipped it over so that they all set up higher.  I white washed these little clay pots and clay saucers.  (A post with a tutorial on a new-to-me product that I used will be live tomorrow….. along with an announcement that scares me a bit… Stay tuned!)  I placed a bottlebrush tree in each clay pot, topped them with Poly-fil (pillow stuffing) and sprinkled them with fake snow.   These days, bottle brush trees come in several different colors, but I stuck with the creamy white ones…. SURPRISE! ????

Place Setting Name Tags
I thought it would be cute to attach a little name tag to each one, too.  Confession:  when I was a little girl, I thought these little round paper name tags with the metal edge were the COOLEST.THINGS.EVER.  ????   I have no clue why…. ????  I think it's the shiny metal around the plain paper.  Anyway, I just hung these cute little tags from the top of the bottlebrush trees.   That's it.
Reuse your little pot by planting a succulent or an herb, this Spring, for your kitchen window.  Or you can just store it in one of your 489 Christmas tubs to use next year.  ????  But don't forget to take off that simply marvelous paper and metal tag and hang it somewhere to be cherished.  Wear it as a pendant on a necklace or ask your host for a second one so you can make earrings…. OK…that's enough of that….????
SHOP THE POST
Be sure to check out all the inspiration using bottlebrush trees from some of my friends. They have such great ideas to help bring this whimsical Christmas decor come to life.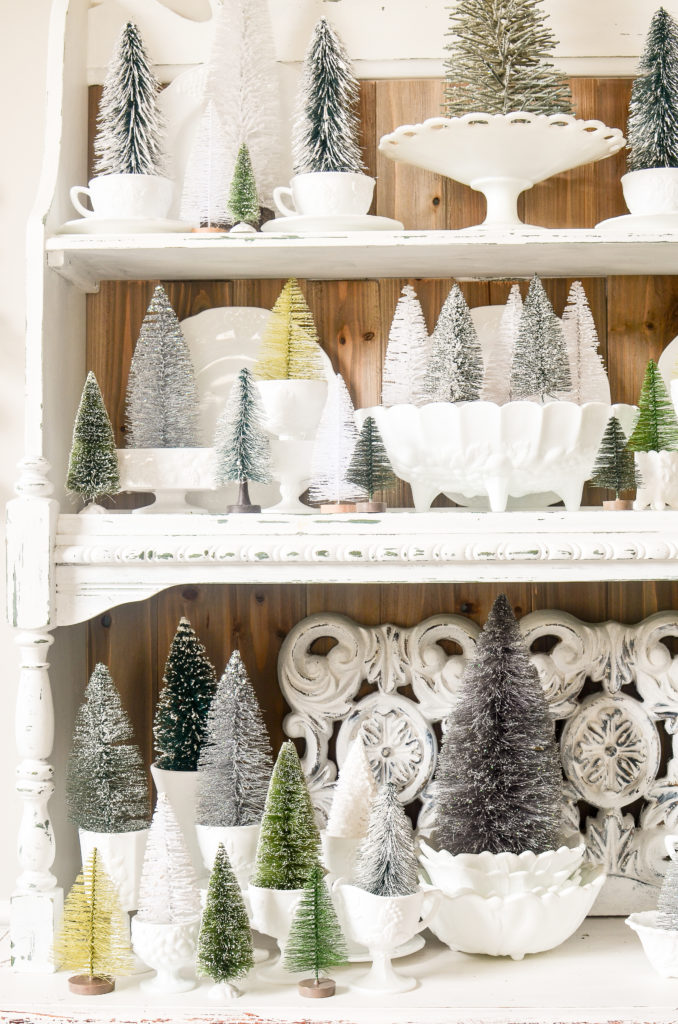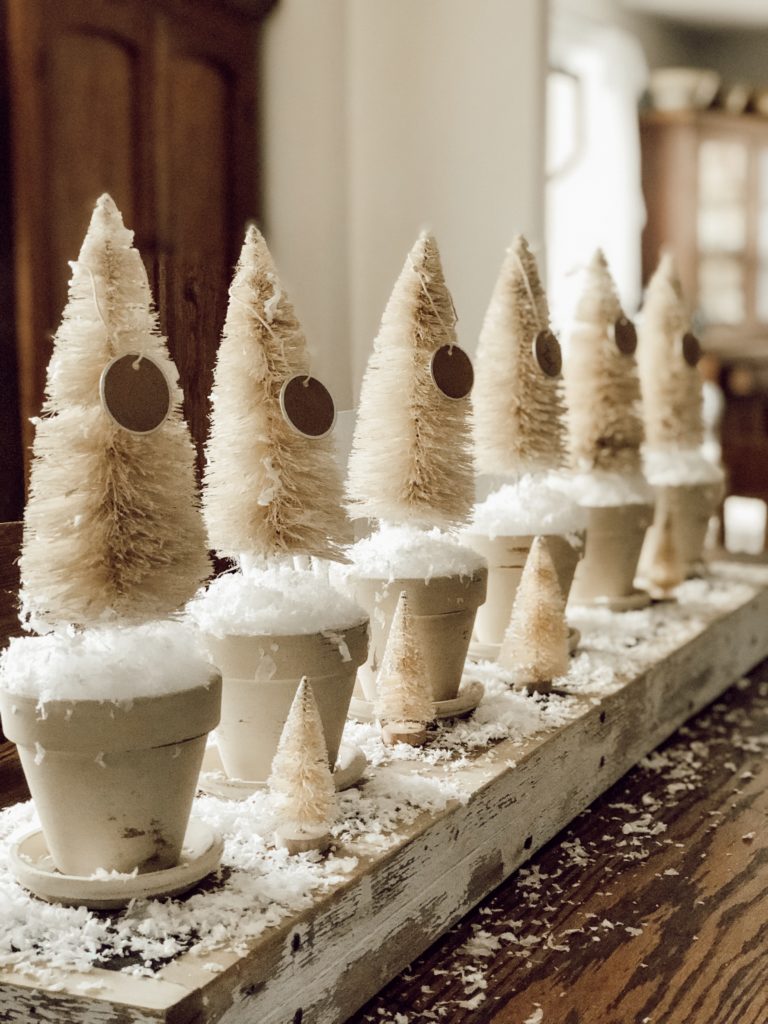 Danelle at The House On Winchester